"Becoming a priest or a man or woman religious is not primarily our own decision…. Rather it is the response to a call and to a call of love."
– Pope Francis, Address to Seminarians and Novices | July 6, 2013"

At the Syro-Malabar Catholic Diocese of Chicago, the Office of Vocations is dedicated to guiding and supporting individuals on their unique journey towards holiness and vocation. Our roots trace back to the evangelistic teachings of Saint Thomas the Apostle, and we carry forward a rich spiritual legacy that has produced numerous men and women missionaries across the globe. Now, on American soil, we aim to cultivate and nurture individuals who embody the zeal of our forebears and share a deep passion for our cherished spiritual heritage.
Our Mission: The mission of the Office of Vocations is clear—to foster and bolster vocations to the priesthood, religious life, and dedicated lay ministry. We understand that God's call is profoundly personal and distinctive to each individual. Our role is to provide guidance, support, and encouragement to help individuals listen to that call and respond wholeheartedly.
What We Offer:
Spiritual Guidance: Our team of dedicated priests, religious, and lay counselors offer spiritual direction, discernment programs, and mentorship for those embarking on their vocational journey. A solid spiritual foundation is essential in discovering one's vocation.
Educational Support: We provide access to educational resources and institutions, including seminaries, to equip candidates with the knowledge and skills necessary for their chosen vocation.
Community: Being part of the Syro-Malabar Catholic Church is like being part of a close-knit family. We facilitate connections, both nationally and globally, to create a supportive and nurturing environment.
Practical Training: We assist candidates in gaining hands-on experience through internships and volunteer opportunities, ensuring they are well-prepared for the responsibilities of their chosen vocation.
Discernment: We recognize that discernment is a lifelong process. Our goal is to assist individuals in navigating the challenges and doubts that may arise along their vocational journey.
The Office of Vocations aims to cultivate a culture of vocation—a community where people joyfully live out their God-given calling. In today's modern world, discerning God's voice can be challenging amidst a multitude of options. We understand the difficulties, especially when facing the possibility of choosing a priestly, religious, or consecrated vocation in the face of potential skepticism from loved ones.
Join Us: The Office of Vocations extends a warm invitation to all who feel the calling to serve the Lord. While our focus is on serving the Syro-Malabar Catholic Diocese of Chicago, every vocation is sacred and will find our unwavering support. Whether you're a young person exploring a life of ministry, an individual seeking a deeper spiritual connection, or anyone in between, our doors are open to you. We believe that within the diverse tapestry of vocations, we can find unity in our shared commitment to living out the Gospel values of love, compassion, and service. Together, we can strengthen the bonds of faith and enrich our One, Holy, Catholic, and Apostolic Church, particularly through our beloved Syro-Malabar Catholic tradition. Join us on this extraordinary journey of faith!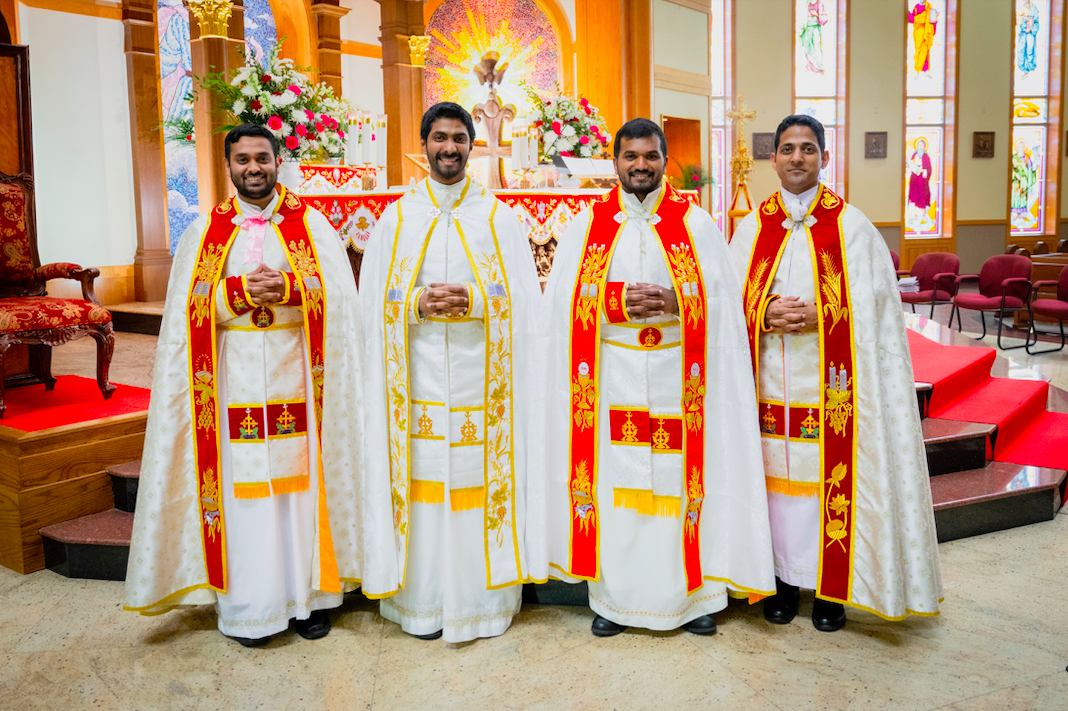 Ministry Contacts
DIRECTOR
Rev. Fr. Wilson Antony
ASST. DIRECTOR
Rev. Fr. Joby Joseph, STL