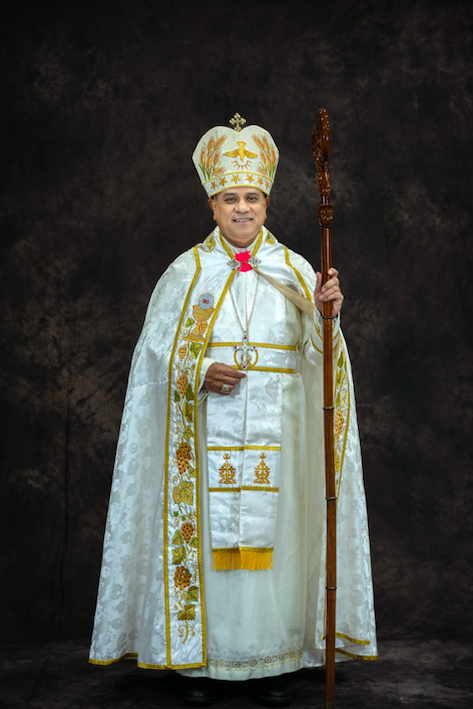 Bishop Joy Alappatt
Bishop Mar Joy Alappatt was born at Parappukara, in Thrissur district, Kerala, India, on September 27, 1956, as the second son of late Mr. Varghese and late Mrs. Rosy Alappatt. He has two brothers and two sisters. His baptismal name is John, and he is named after the patron saint of his parish, St. John Nepomucene. He was commonly known as Joy Alappatt. He had his primary school education at St. George Lower Primary School, Puthenpally, Varapuzha; his Upper Primary School at Parappukkara, and his high school at P.V.S. High School, Parapukkara.
After his high school studies, in 1972, he joined the St. Mary's Minor Seminary, Thope, Thrissur. He completed his major seminary studies at St. Thomas Apostolic Seminary, Vadavathoor, Kottayam, and was ordained by Mar James Pazhayattil on December 31, 1981, for the diocese of Irinjalakuda. He served as Assistant Parish Priest at Chalakudy, Mala, and St. Thomas Cathedral, Irinjalakuda. He earned his Masters in Theology from St. Joseph's Pontifical Institute, Aluva. He completed his Masters in Sociology from Andhra University. He served as Chaplain and Mission Director of the Syro-Malabar community in Chennai, Tamil Nadu, India, for six years, from 1987 to 1993.
He came to the United States in 1994 and served as Associate Pastor in the Archdiocese of New York and the Archdiocese of Newark. He completed his Clinical Pastoral Education Program and worked as a certified Priest Chaplain at Georgetown University, Washington, DC. Mar Jacob Angadiath invited him in 2002 to serve in the St. Thomas Syro Malabar Catholic Diocese of Chicago, and he was appointed as the Director of Syro-Malabar Mission in the region of New Jersey and later appointed as the Administrator of Our Lady of Sorrows Church, Garfield. He was the Convener of Syro-Malabar National Convention 2003, New Jersey. In 2011 he was appointed as the Pastor (Vicar) of the Mar Thoma Sleeha Syro Malabar Catholic Cathedral, Chicago, Illinois. While he has been serving as the pastor of the Mar Thoma Sleeha Syro-Malabar Catholic Cathedral, on July 24, 2014, Holy Father Pope Francis appointed Rev. Fr. Joy Alappatt as the Auxiliary Bishop of St. Thomas Syro-Malabar Catholic Diocese of Chicago and also as the titular bishop of the see of Bencenna. On September 27, 2014, was his Episcopal Ordination by His Beatitude Mar George Cardinal Alencherry, the Major Archbishop of Syro-Malabar Church.
Bishop Joy Alappatt is a known retreat preacher, orator, musician, and influential pastor with efficient administrative skills. He has written lyrics for several Christian devotional songs and published a few music albums. The motto which he selected is "Joyfully for Your Souls".
On July 03, 2022, by accepting the resignation of Bishop Mar Jacob Angadiath, Pope Francis appointed Bishop Mar Joy Alappatt as the bishop of the St. Thomas Syro Malabar Catholic Eparchy of Chicago.